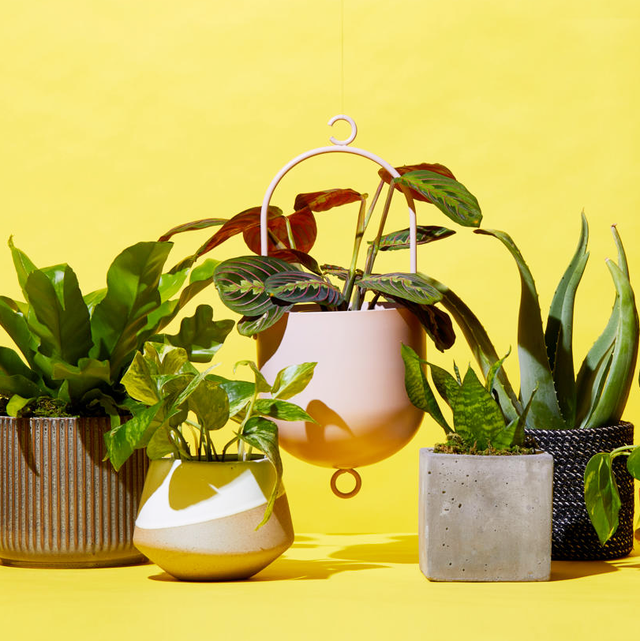 There's a reason Bobby Berk fills every home on Queer Eye with plants: They add life to any room, purify your air, and boost your mood. Updating your house with greenery is also easier than ever thanks to new online plant delivery services.
Yep, it's now possible to send living plants through the mail and have them arrive intact (and thriving!) on your doorstep a few days or even hours later. While you can always go to your local nursery for recommendations, online stores offer more variety than ever before, not to mention subscription services so you can receive new décor on the reg.
To find out which suppliers have honed the art of growing, packing, and shipping plants, we ordered houseplants from the most popular brands in the game right now, including superstores like Amazon, florists such as UrbanStems, and houseplant-focused companies like The Sill and Bloomscape.
Before you buy any plant, you'll want to consider which types fits your lifestyle. If you're prone to overwatering, get a species that can survive frequent dousing, like Chinese evergreens or peace lilies. If you're more of a leave-it-and forget type, go with drought-resistant succulents or aloe. Pothos, prayer plants, and spider plants also top many horticulturists' lists of hard-to-kill favorites.
Ready to get gardening? Find out the absolute best places to order plants below:
Advertisement – Continue Reading Below
Best for Beginners
The Sill
thesill.com
If you're just dipping your toe in the gardening waters, check out The Sill. This site exclusively sells houseplants with the mission of promoting "plant parenthood." Each new friend comes not only with simple care instructions, but also a one-year guarantee on certain varieties, like this marble pothos. (Yep, if you kill it, they'll send you another one.) Prices range from $6 for a small plant in kraft paper to $60 and above for larger specimens in chic pots, and shipping is free on orders over $75.
Fastest Delivery
UrbanStems
urbanstems.com
These florists will deliver plants such as this bird's nest fern in as little two hours in select cities, but UrbanStems also offers free, next-day shipping nationwide. The plants fall on the pricier side ($48 and up), but the display-worthy containers come included in the cost and you'll save on delivery.
amazon.com
Yes, you can order plants on Amazon. Find specimens priced as low as $2 on the online superstore, but you'll get what you pay for. Our pothos arrived in messy packaging and with almost no soil in its plastic pot. But if you're okay nurturing a stressed plant back to health, Amazon is a cost-effective way to go. 
Best for Gifts
Bloomscape
bloomscape.com
No plant in our test was packed more securely than Bloomscape's. In addition to cardboard inserts that kept the pot and matching tray in place, a coco fiber mat and a layer of Spanish moss held soil in its container. Our prayer plant arrived already thriving and came with helpful care tips too, so you can feel good about sending these gifts to friends with or without a green thumb. Small plants in pots start at just $35 and shipping is free on all orders over $50.
IndoorPlantsLLC
etsy.com
$14.95
It's not just for crafts. Nurseries across the country sell plants via Etsy, meaning you'll find unique varieties and colors not available on other sites. While the quality can depend on the vendor, our prayer plant from IndoorPlantsLLC came in secure packaging with still-damp soil — and at $15, a total bargain.
Best Surprise
The Bouqs Company
Our Bouqs plant arrived looking healthy and happy … except the concrete planter held a snake plant instead of the spiky-looking succulent we ordered. While The Bouqs Company disclosed that deliveries "may vary slightly from what is pictured," it's a reminder of what can happen when you shop for plants online: You never quite know what you're going to get!
Advertisement – Continue Reading Below