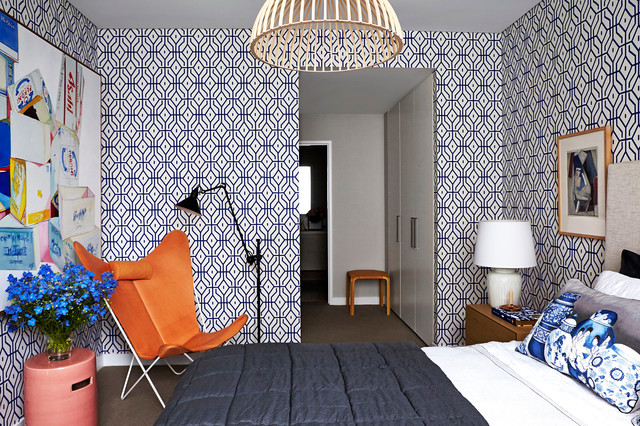 Textured wallpaper is not a new discovery however they are finally having their moment in 2022. If you feel that a regular wallpaper or paint is too flat and wish to add some drama to your home, then textured wallpapers are something that you must get your hands on.
No matter what your style is, whether you want a subtle pattern or want a statement design, you will find a textured wallpaper out there that will fit the bill. If you are looking for something minimalist, then you can opt for textured walls in warm neutral colours or ones with faux effects like brick, concrete and wood. Those who are aiming to make their walls the showstopper of their space can opt for metallic wallpapers in gold and copper or heavily textured wallpapers.
Keep reading to learn everything you must know about texture wallpaper for wall.
Why choose textured wallpapers?
Make your home feel personal
Using a textured wallpaper is a great way to add character and bring emotions to an otherwise lifeless space. Your walls make an impression on your guests even before you get to make one. With the help of a tasteful textured wall, you can convert your home into your sanctuary.
Add depth
While there is nothing wrong with the traditional paints, often they fail to add the right amount of depth into a room and make it appear flat. Textured wallpapers solve this dilemma and add a three-dimensional effect to your space.
They are versatile
You can install a textured wall in almost any room from the living room, bedroom, to the kids' room, home office and kitchen. They instantly breathe life into a space and make it look warm and cosy.
Save you money
Textured wallpapers are cost-effective in comparison to textured paints. Hence, if you are not willing to splurge on textured paints yet want the same effect for your walls, textured wallpaper for walls is the answer to your prayers.
Easy to remove
For all the renters who don't have the liberty to go for textured paints, textured wallpapers are a great alternative to consider as they are easy to peel off whenever you move out of your apartment.
Require less commitment
If you are a commitment phobe or someone who gets bored of a design easily, textured wallpapers are a great choice for you as you can easily peel them off in the future and replace them with a new textured wallpaper.
How to choose the right textured wallpaper?
It is important to match the interior wallpaper texture to the existing theme and colour palette of your space or else it will stand out like a sore thumb.
Keep in mind the traffic of the area where you are planning to install a textured wallpaper. While a light-duty textured wall works for your bedroom and living area, it is advisable to install heavy-duty textured wallpapers for high traffic areas like the hallway and the kitchen.
Before buying a textured wallpaper, measure your walls and decide on the size of the wallpaper you want to go for.
Some popular interior wallpaper textures to check out are geometric patterns, designs based on fabric patterns and semi-plain textures.
What to keep in mind while installing a textured wallpaper?
Installing textured wallpapers for a larger space can get messy, hence if you have never done it before, it is advisable to seek professional help.
Don't skip on cleaning the wall before you apply the textured wallpaper as it will ensure that it sticks better and lasts longer.
A pro tip is to store the excess wallpaper for the future because it is difficult to find the exact textured wallpaper years later if there is a tear in the wallpaper.
Remember to buy a sample of the textured wallpaper for walls and test it against your furniture before you purchase the entire roll. Browse through the Asian Paints website to check out the trending, contemporary textured wallpapers that will transform your space.